When we were researching things to do in Hamburg, a small museum caught our eye with a different proposal. Called Deutsches Zusatzstoffmuseum, the German Food Additives Museum is dedicated to explaining the use of various chemicals and other substances that are present in the food that we eat every day. If you have been following Fotostrasse for a while, you know that we like to explore unusual places, this small museum was precisely what we were looking for.
Hidden away behind too many unfriendly gates, the German Food Additives Museum is one of those rare places that makes you think about what are we consuming every day. We left the museum wondering about everything that presented and how people should know more about it. This is what made this museum so fascinating.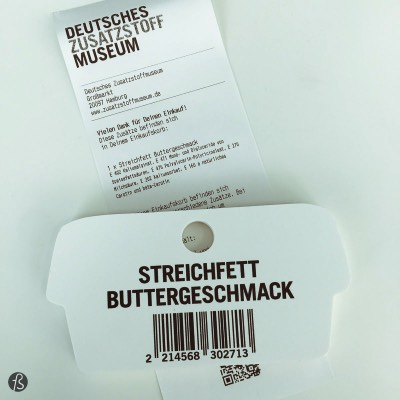 The German Food Additives Museum tries to shine a light on a large number of additives that are hidden away in the food that we eat daily. From dyes to emulsifiers, stabilizers to preservatives, everything that we eat has some unnatural chemical that is pretty much unknown to the average consumer.
There we learned how cheap it is to replace ingredients with artificial flavoring and how many additives we eat without knowing. They even have a wall that covers the evolution of food additives and explains the mistakes done in the past with arsenic and other poisons that killed people.
For us, the exciting part of the German Food Additives Museum was how it tries to tell the world about the food we eat in a focused way. There is even a scanner that you can use on some barcodes to learn what is inside the products you buy. The museum shows the history behind what we have today and the current landscape of food additives in an informational way. Something that we were delighted to see since the most information you have about this topic goes to the political aspect fast.
The German Food Additives Museum, or Deutsches Zusatzstoffmuseum like it's called in German, was founded in 2008 by the Hamburg Food Foundation with the help of Georg Schwedt and Udo Pollmer, two chemists whose work is focused on food. The idea here was to educate people about the different types of chemicals and additives that are presented in the food we all eat. How additives are used, what is the reasoning behind them, how is the production process and what are the risks.

The first one is the Prizeotel Hamburg-City, a budget design hotel located close to the museum and with one of the best showers, we ever had! But they are more than great showers, take a look at our full hotel review here, but you can check it out on the button below.


Also, you might like to stay at Superbude, a design hostel at Hamburg St. Pauli. This is one of the most excellent design hostels in Germany, and you will not regret spending your time there when you visit Hamburg. Click here to see what we wrote about it or just click below to book your room there!

The only problem at the German Food Additives Museum is that all the information presented here is presented in German. Yeah, nothing is in English and the language being used is highly technical. If you don't speak German, bring a cellphone with an image translation app like Google Translate, and you'll be set. We did this there and really enjoyed exploring this small museum.
The Deutsches Zusatzstoffmuseum is a little difficult to find since it's located inside a market hall with too many gates. To get into the museum, look for the Eastern Gate, and you will be able to see a sign with the name of the institution. Go close to the gate and ring the bell if the gates are not open. Somebody will open it up for you, and you will walk a few meters more to be able to see it. You have to pay €3,50 to enter the museum and that is it. It sounds complicated, but it's just a little odd.

Banksstraße 28, 20097
Hamburg, Germany
---
If you like what you read here, you should join us on our facebook group, follow us on Facebook and Twitter and, maybe, even our Flipboard Magazine. Or even, subscribe to our newsletter!
<!–- -–><!–- -–>