Back in 1999, local historian Christian Bormann found something that it wasn't supposed to be lost. Nine years after demolition began, he found a piece of the Berlin Wall, somehow forgotten in the woods between a train station and a supermarket.
More than 80 meters of the original Berlin Wall, built in 1961, are standing there, some with the V-shaped brackets that once had barbed wire. It's hard to believe that something of this historical importance was lost, which is why we went there to see it with our own eyes.
At the end of January 2018, early on a Sunday morning, we went to Berlin Schönholz to see what was happening with this newly found original Berlin Wall in the news. According to what we read, Christian Bormann found this piece of the Berlin Wall back in 1999, but he couldn't prove what it was.
After a few years, his research led to believe that this is an original piece of the Berlin Wall. Somehow, it was forgotten in the woods, and nobody tore it down back in 1989.
Christian Bormann only went public with his discovery after noticing the increase in damage to the site. There is a lot of graffiti everywhere, and it seems like a storm, not long ago, sent some trees through the wall. There are loose bricks everywhere, and it feels like it needs some protection from the elements. For him, this structure has outstanding cultural importance and authorities need to be responsible and take care of it. And we couldn't agree more with him. In the video below, you can see how it used to look like before.
Our visit to the newly found original Berlin Wall in Schönholz
You might be wondering how a piece of the original Berlin Wall could be lost in the German capital. We asked about it too. We asked even more questions when we found out where this relic is. When you know where to look, this piece of the Berlin Wall is right in front of your eyes. You can see it from the S-Banh Schönholz, and we couldn't believe it. We were there before when we went to the Soviet Memorial in Schönholzer Heide, and we never imagined what was those bricks on the other side of the train tracks.
This section, discovered by Christian Bormann, is one of the oldest pieces of the Berlin Wall we ever saw. It dates back to 1961 when East Germany surprised Berlin with bricks and barbed wire and built a wall dividing the city. This wall lasted from 1961 to 1989, and it scars the town to this day. But, without the barbed wire on top and the watchtowers, it just looks like a forgotten wall hidden in the woods. Something that can be seen everywhere in Berlin since the bombing of the city in the Second World War.

Today is an important day for those who care about historical facts and the Berlin Wall. Today marks the day the Berlin Wall has been down as long as it was up. It was built in 1961, and it stood for 18 years, two months and 26 days. To be precise, the Berlin Wall existed for 10316 days. And it has been precisely the same amount of time since it fell. To celebrate this critical moment in time, we decided to publish this article.
It seems unlikely that any other part of the original Berlin Wall will be found. So, this discovery by Christian Bormann is essential, and we are going to keep an eye on the news to see if local authorities do something with it.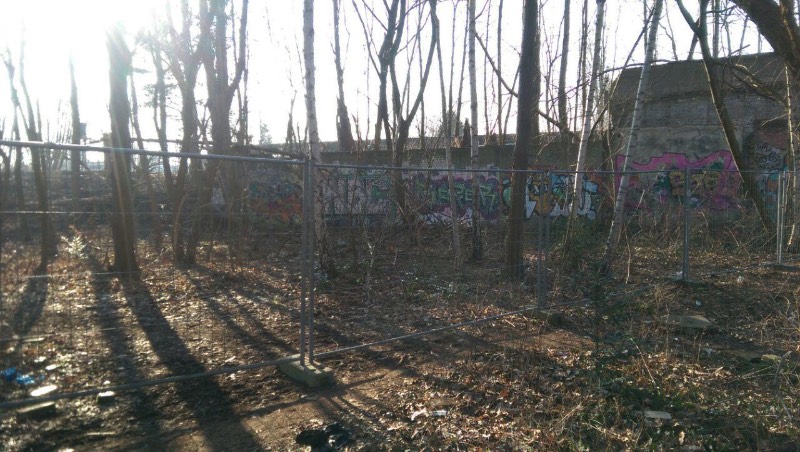 If you want to see this forgotten piece of the Berlin Wall, you have to take a train to S-Banh Schönholz and just look to the other side of the train tracks. The wall is there, right in front of your eyes. Take pictures but don't take anything else. This is a historical place and should be treated with respect.
Quick Update: Our friend Rodrigo, from Canal Alemanizando, went to see the original Berlin Wall in Schonholz earlier today and there are fences surrounding the entire wall. We're not 100% sure if it's worth going all the way there to see this wall behind fences. But, it's up to you.
---
If you like what you read here, you should join us on our facebook group, follow us on Facebook and Twitter and, maybe, even our Flipboard Magazine. Or even, subscribe to our newsletter!
---
If you like what you read here, you should join our Discord channel; there, you will find a place for open discussions about all the themes we talk about here, and it is a free space for you to share your questions, comments and suggestions.
If you are not a fan of the platform, you also can join us on our Facebook group or our Twitter and Instagram. We usually post all the lovely images we see and do there, together with curating the best links of all World Wide Web. No joke!
Subscribe to our newsletter for discounts in hotels and photo gear, freebies and much more.