During the seventies, Berlin was a city scarred by war and by a wall that split it in half. This was the city where David Bowie and Iggy Pop decided to live, trying to escape the drug culture of Los Angeles. But where did David Bowie live in Berlin?

During the time of singles like Golden Years and Fame, David Bowie was living on the commercial success of his Thin White Duke period. But he wasn't happy. His behaviour was growing erratic, and he blamed his drug addiction.
And he wanted to change his life, he wanted to go away from this and this is how he found Berlin.
But, before moving to Berlin, David Bowie spent some time in Switzerland, in the second half of 1976. During the time that he was there, he started exploring other art forms besides music and this is how his interest in Berlin got bigger and bigger. It took a few months but, together with Iggy Pop, David Bowie moved to Berlin trying to escape the spotlight and to move away from his drug addiction.
But, the question still stands: where did David Bowie live in Berlin? David Bowie used to live on Haupstrasse 155 in Schöneberg. We never read anything about why he decided to move to Schöneberg, but we believe it must have some connection with the fact that this was the neighbourhood where Christopher Isherwood used to live in the thirties when he wrote The Berlin Stories. We know that Bowie was a fan of Weimar Republic Berlin and that he met Christopher Isherwood during his time in Los Angeles.
Maybe, this is why Bowie moved to the same part of Berlin.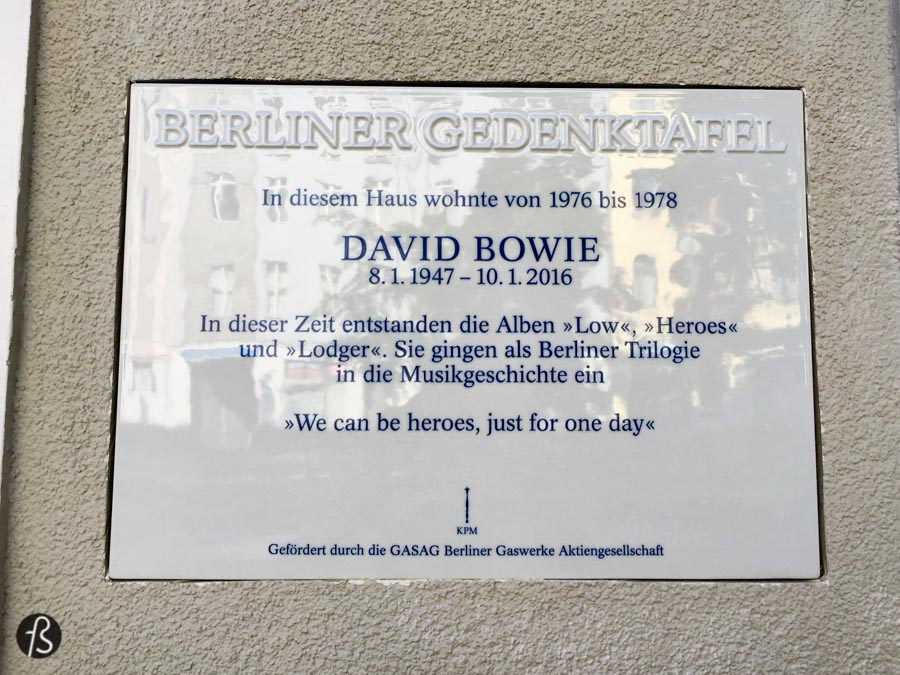 Right now, Haupstrasse 155 is where you can find a memorial plaque celebrating David Bowie's time in Berlin. It was in this place that he wrote his Berlin Trilogy and shared his life with his friend Iggy Pop. The place is sacred to music fans everywhere and it became a meeting point after David Bowie's death in the beginning of 2016.
But, maybe, in the near future, Haupstrasse will change its name into something even more special. By law, names of streets can only have the name of a person after the said person has been dead for more than five years. And, since Haupstrasse is not a unique and special street name, maybe, the city of Berlin would celebrate one of its most famous former residents with a new street name.
Let's wait to 2021 and see what happens.
If you wanna visit where did David Bowie live in Berlin, you just need to take a subway to Kleistpark U-Bahn. This is the subway station closest to Haupstrasse 155 and, from there, you will walk less than a block to where he used to live. Just look for a white memorial plaque on the wall and you will know that you are in the right place.
For a bit more info and a nice tour from back then, this video shows it all.
And of course, if you're interested in seeing how was the tribute outside this apartment, we did a video about it, and it is pretty nice. Don't forget to subscribe to our channel after you watch it, please. And if you want to get tattooed where Bowie lived in Berlin, check out our favourite Berlin Tattoo artists and Berlin tattoo studios because you might find something interesting there. *wink wink*
David Bowie lived in Berlin in this address
Haupstrasse 155 — Schöneberg
Cover picture by Andrew Kent.
---
If you like what you read here, you should join our Discord channel; there, you will find a place for open discussions about all the themes we talk about here, and it is a free space for you to share your questions, comments and suggestions.
If you are not a fan of the platform, you also can join us on our Facebook group or our Twitter and Instagram. We usually post all the lovely images we see and do there, together with curating the best links of all World Wide Web. No joke!
Subscribe to our newsletter for discounts in hotels and photo gear, freebies and much more.