When you live in Berlin, you end up exploring the same neighborhoods all the time. It's easier like that, but you might miss a lot of great spots. To fix this, I decided to explore a famous part of Berlin that I usually don't visit often. Because of my lack of knowledge, I decided to spend 48 hours in Berlin City West just to see what could I see and do in one of the most famous areas of the German capital.
But, before you complain about what I'm describing as West Berlin, I have to say more about my geographical choice. What I'm mean as West Berlin isn't the entire political enclave that used to be controlled by the Western Allies: United States, France, and the United Kingdom. What I mean as Berlin City West is the area around the Zoo Bahnhof in Charlottenburg in what used to be known as Neuer Westen, the New West Berlin. This central area of Berlin is one of the main commercial areas, and it used to be the business center of the former West Berlin during the time that the Berlin Wall used to be there.
The first time I got to know about Berlin City West, was in the movie Christiane F. from 1981. The film is based on the infamous book We Children from Bahnhof Zoo, and it portrays the drug scene in West Berlin in the 1970s. The area where most of the film happens is around Europa Center, and this is where I started my urban exploration trip.
Below you can see everything that I did during this 48 hours in Berlin City West, and I hope you can find some inspiration from your trip to Berlin.
Day One in Berlin City West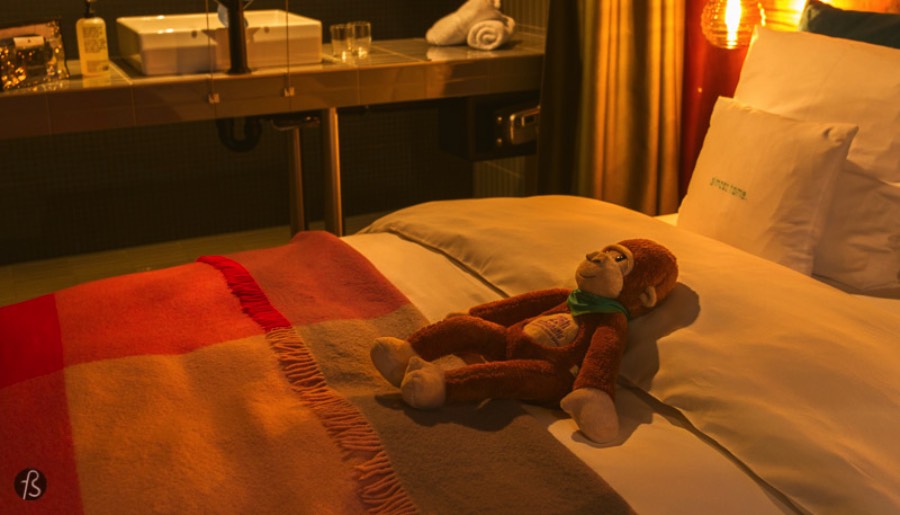 The first thing that you have to do is arrive at the 25 Hours Hotel where you will do like me and call it home for the next two days. This hotel is the best place to stay in West Berlin, and I loved my time there. From the fantastic view from my room, overlooking the Breitscheidplatz and its Kaiser Wilhelm Memorial Church, to the bedroom itself that might be one of the coolest places I have ever slept.
To know more about the 25 Hours Hotel, you have to take a look at my full article review. But if you feel like you know enough, you must do your reserve on the button below, and that is it.
In front of the 25 Hours Hotel, you will find the famous Europa Center. Built between 1963 and 1965 where one of the most popular meeting places for artists and writers used to be. Known as Romanisches Café, this used to be one of the most fashionable places in Berlin, but it didn't survive the November 1943 RAF air raid to Berlin.
Take pictures of the Great Clock of Flowing Time
Europa Center is an old shopping mall that looks like it's still in the sixties. For some, like me, this might be cool enough, but some people might find it annoying. But, what I want you to see there is The Clock of Flowing Time! This 13 meters high water clock is made of a series of communicating vessels that keep time. A yellowish liquid goes between glass chambers and makes the clock work. It might be a little bit too nerdy for some, but this is just the beginning of my 48 hours in Berlin City West.
A visit to C/O Berlin
After your visit to the Clock of Flowing Time, you will walk to one of the most innovative, modern and international exhibition spaces in Berlin. Entirely dedicated to photography, C/O Berlin is beyond amazing. And I spent a lot of afternoons there taking a look at some pictures from Anton Corbijn and the art of vinyl and music photography. This last one was what was being exhibited in Winter 2017, and you can take a look at what I wrote about it here.
C/O Berlin is located in a unique place called America House. This building was built in the late 1950s for the Interbau building exhibition as a culture and information center for the United States and, today, it houses exhibitions by world-famous photographers.
Take a look at their website before heading there to learn more about what shows are being held there and have fun.
Exploring the Museum of Photography and Helmut Newton Foundation
If you liked C/O Berlin, what do you think about having an afternoon dedicated to photography? If you feel like it, you can do like I did and walked nearby to the Museum of Photography. This large space used to be a casino but, nowadays, is a space dedicated to the work of famous portrait and fashion photographers. There you will also find Helmut Newton Foundation with a lot of material from Helmut Newton's long fashion photography career. There you will also be able to see his wife's photography, Alice Springs.
Dinner at Lon Men's Noodle House
After an afternoon of photography culture, you will be hungry. My tip is to go to Kantstrasse and explore what some people consider to be Berlin's China Town. There you will walk through a lot of restaurants until you stop to have dinner at Lon Men's Noodle. This original Taiwanese noodle house serves fantastic food in a simple location right by the street.
If you don't know what to order in a Taiwanese noodle house, follow my tip. Ask for the minced meat noodles, duck buns, and chili wontons and thank me later!
Time for drinks at Monkey Bar
To end your first day exploring Berlin City West, it's time for some drinks at Monkey Bar. Located on the 10th floor of the Bikini Haus, where you can also find the 25 Hours Hotel, this is the perfect bar to watch a sunset over Berlin. Their cocktails are great but beware of the long queue if you arrive there a little bit later.
Second day exploring Berlin City West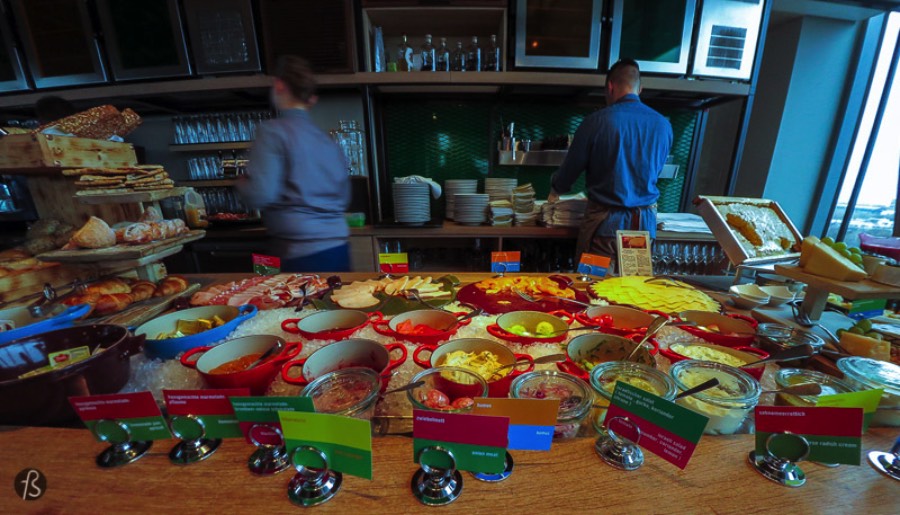 Before you head for a new day exploring Berlin, enjoy an extended breakfast at 25 Hours Hotel. There you will even find some of Berlin's traditional dishes: the Berliner Currywurst. As I said in my full review, the breakfast there was one of the highlights of my stay. There was a lot of variety in beverages and juices from coffee to mango lassi.
And, the view from there will make your experience even better. From the top, you will be able to see your next stops during the days. From the Victory Column that stands proudly in the middle of Tiergarten to the ruins of the Kaiser Wilhelm Memorial Church. From up there you can see everything.
Victory Column, one of the best photo spots in Berlin
Now it's time for a stroll inside Tiergarten with your eyes set on the beautiful Berlin Victory Column. Known in German as the Siegessäule, this golden statue stands in the heart of Tiergarten Park and has one of the best panoramic views of Berlin. I even mentioned it in an article I wrote about Berlin's best photo spots.
From up there you will see the Brandenburger Tor in front of you. I didn't add it to the list because it used to be located in East Berlin. So, from the Siegessäule, you will see it as the people in West Berlin would have seen it a few decades ago.
The golden sculpture on top of the column is made of bronze and weighs 35 tons, measuring a little over 8 meters. Friedrich Drake created the artwork; the statue was first intended to celebrate Prussia's victory over Denmark in the Second Schleswig War in 1864. But, by the time it was finished, Prussia was celebrating victories in the Austro-Prussian War in 1866, and the Franco-Prussian War from 1870 to 1871. Those are known as the Wars of German Unification, and this is the story that you find in the mosaics and bronze reliefs around the base of the column.
Even if you don't care about the historical value of the Victory Column, this place is a must see in Berlin.
A visit to the Bauhaus Archive and its Museum of Design
As a designer, when I first came to Berlin in 2011, one of the first places that I wanted to visit was the Bauhaus Archive and its Museum of Design. There you will learn about the history and lasting influence of the Bauhaus, the most prestigious college of art, design, and architecture of the twentieth century.
Bauhaus only existed as a college of design until 1933, but its influence can still be felt today in a lot of different fields. This is why a visit to the Bauhaus Archive is necessary even if you don't understand or care about design. This museum is not about that; this museum is about the history of the last century with a focus on how a small school in Germany influenced the world.
If you like design and the Bauhaus, don't forget to visit the Bauhaus Archive gift shop where you will find books, posters, and objects from the rich history of this school.
The Beauty of Kaiser Wilhelm Memorial Church
After a walk around the embassy district of Berlin, you will be back to the start of your morning walk just in time to visit the ruins of the Kaiser Wilhelm Memorial Church. This is Berlin's most famous ruin of the Second World War and a classical sight of Berlin City West since it was built in 1895.
First built by Kaiser Wilhelm II to honor his grandfather, Kaiser Wilhelm I, this church was destroyed by British bombing raids almost at the end of the Second World War, and now it's a landmark and a memorial against the destruction of war.
Before this visit, I only have seen this church from the inside. When I moved to Berlin, in 2012, the church was under renovation, and it took a while for it to be open to the public. I never had the chance to visit it until this Berlin City West tour idea. And it was an amazing experience.
Inside it, you feel like you are not in Berlin anymore. The noise from the cars stays outside, inside you're being faced with blue light and, I was lucky, an organ player filling the air with music. This is the Gedächtniskirche, and it's a memorial for peace and a place for contemplation.
Pay attention to the mosaics inside the ruins of the old church. They're located everywhere, even on the floor, and most of them have some scar of the bombing that destroyed the church in 1945.
German Food at Rogacki
Now that you spent some time exploring Berlin's past, it's time for lunch, and I will take you to an iconic delicatessen in West Berlin. Rogacki has more than 90 years of history and most people go there because of its food court and amazing fish smoking. This is one of the few historical food destinations in Berlin that is worth the visit.
Just be aware that Rogacki is far from a hipster burger joint or a fresh Asian fusion restaurant. Rogacki is a delicatessen and a food court. There are no luxuries here besides the fantastical food. Have lunch and go for a walk looking at all the food on display on their glass windows. You will go home with something from there.
Shopping at Manufactum
On my way back from Rogacki to the 25 Hours Hotel, I manage to find some time to explore one of my favorite shops in Berlin, Manufactum. This shop is more than just a shop. This is like an old time emporium with perfect rows of textiles, leather goods, office material, kitchen and home supplies and much more. They have everything, and everything they have is unique and beautiful.
Even when I don't need anything, I like to go there and just look around the shop. Most of its products can only be found there, and all of them are built in a way that will last forever, or almost. There is now shop like this in Berlin, and you will end up spending quite some time inside. Trust me on that.
Verkehrskanzel, the last traffic pulpit
Close to the hotel, in the middle of all the shops on Kurfürstendamm, you will find a neglected and forgotten part of Berlin's history. It's one of these buildings that you see in a city but never actually pay attention to it. This is the Verkehrskanzel, the last surviving traffic pulpit in Berlin.
The box like building is made of glass and overlooks the streets in front of it since it used to be the place where a police officer that would be paying attention to the cars and buses coming around Kurfürstendamm and turn on and off the traffic lights based on what he was seeing. But this only happened for a few years in the 1950s until automation came to the traffic light of Berlin. But the place is still there, and I love its visual and history.
There was no drinks or beer for me after the second day exploring Berlin City West. I got to the 25 Hours Hotel so tired that I just wanted to lay down on the amazing bed I had in my bedroom and rest my eyes for a while. And this is what I did.
Last Day Exploring Berlin City West
You are going back to Tiergarten after having breakfast at 25 Hours Hotel. The first stop it's going to be at the Open-Air Gas Lantern Museum, known in German as Gaslaternen-Freilichtmuseum Berlin. This unique open-air museum was founded back in 1978 when electric lights were replacing the old gas lights that were common in the past.
Berlin has an Open-Air Gas Lantern Museum, for real
Instead of throwing the old gas lamps away, they were kept as a reminder of how street lighting used to be. And there you will see more than 90 different gas lanterns from all over Europe. Too bad some of them have been heavily vandalized, but this open-air museum is still interesting. After going there, I keep paying attention to the streetlight in Berlin, and they are all quite different.
Albert Speer Street Lamps
This is how I managed to find out about Albert Speer's remaining street lamps in Charlottenburg. He was Adolf Hitler's chief architect before he assumed the post of Reich Minister of Armaments and War Production for Nazi Germany. But I'm not here to talk about his role during the Second World War. I'm here to point out that you can find some of his work still around Berlin.
When you go past the railway line crosses Straße des 17. Juni, around the Tiergarten Station, the streetlights change the style completely. It's there that you'll find the work of Albert Speer. The street lights go from Bismarckstrasse and Kaiserdamm, before finally finishing at Theodor-Heuss Platz. This square used to have a different name in the past: Adolf-Hitler-Platz. This would be a major point in the imagined Welthauptstadt Germania, but it never happened, making these street lights even more attractive. For me, it's weird to have these almost forgotten pieces of work by Hitler's favorite architect in the middle of the busy street of West Berlin. But there they're.
The Modernist Beauty of Hansaviertel
After exploring a lot of streetlights in the middle of West Berlin, you have to explore one of my favorite parts of Berlin, the modernist Hansaviertel. This iconic part of Berlin was created back in 1957 as the city of tomorrow and, even today, it still has a modern presence.
This modernist appearance might be due to the work of internationally known architects like Alvar Aalto, Egon Eiermann, Walter Gropius, Oscar Niemeyer, Sep Ruf and many more. They got together in the late 1950s to work on Interbau, also known as International Building Exhibition. What they created back then is still fantastic and a place that I only wish I could live.
Since I don't live there, I like to spend some afternoons exploring the area. Surrounded by the Spree river on one side and the Tiergarten on the other, Hansaviertel is an oasis of design beauty in the middle of Berlin. Most people don't even know about this but those who do, know how beautiful this is.
Beers and German Food at the Tiergartenquelle
To end this 48 hours exploring Berlin City West, I had to have a cold beer and some German food at the Tiergartenquelle. This typical Berlin pub has more than 70 years of tradition with great food and a famous Biergarten that gets crowded in the summer. Since I was there in winter time, I had to stay indoors and enjoy my Lemmke beer.
I think we're done. After these 48 hours exploring Berlin City West, you will be able to tell the world about design and architecture, traditional places to eat and some of the best beer in Berlin. All of this in a part of the German capital that most people don't explore further. So, take the tips here and book a bedroom at 25 Hours Hotel and start exploring West Berlin.
If you have any tips of places that we should visit in a second exploration, drop them in the comments below! I'm always eager to learn about different locations in Berlin.
---
If you like what you read here, you should join us on our facebook group, follow us on Facebook and Twitter and, maybe, even our Flipboard Magazine. Or even, subscribe to our newsletter!
---
If you like what you read here, you should join us on our facebook group, Twitter and, maybe, even our Flipboard Magazine. Or, subscribe to our newsletter!