Welcome to Oulu, a charming city in northern Finland known for its stunning natural landscapes and vibrant cultural scene. Among the city's many attractions and experiences, one stands out for chocolate lovers: ChocoSomnia, a local chocolate company founded in 2015 by Riikka Ojanen.
From humble beginnings in a small kitchen, ChocoSomnia has become a beloved destination for those seeking a unique and delicious chocolate experience. Join us as we indulge in chocolate's sweet world and explore Oulu's magic!
Below, we'll take you on a journey through the fascinating history of ChocoSomnia and the mouth-watering treats it offers. Also, we will talk about the fantastic chocolate-making workshop that led us to this exciting place.
Riikka Ojanen, the founder and chocolatier of ChocoSomnia has always been passionate about chocolate. With years of solid experience as a chocolate user, Riikka pursued a vocational qualification in entrepreneurship during her maternity leave in 2010. She didn't have a full-time job when she returned to work, so she decided to start her own business.
ChocoSomnia was founded in 2015, with the name combining the words "choco" (chocolate) and "somnia" (dreaming). Riikka initially made chocolates in her small terraced house kitchen. Later, she moved to a detached house with a larger kitchen as demand grew.
Soon, even mail carriers were buying chocolate directly from Riikka's kitchen, prompting her to rent a commercial space near the center of Oulu with a production space and a brick-and-mortar store.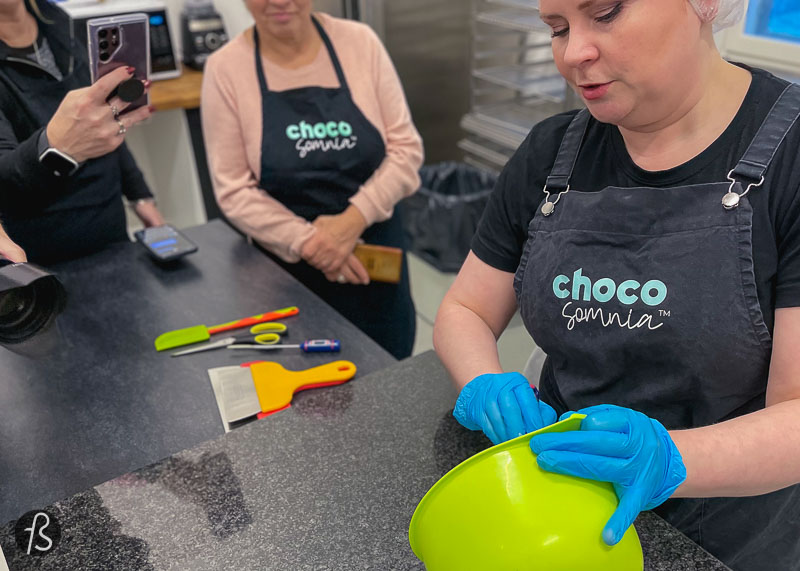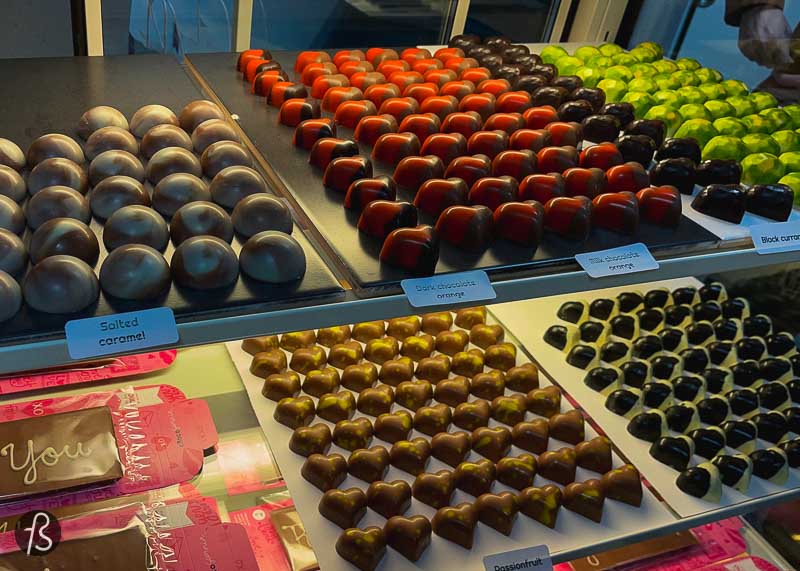 In 2019, Jenna Antinmaa, a fellow passionate chocolate lover and successful entrepreneur, bought a share in ChocoSomnia, making it a limited company with two passionate entrepreneurs. Jenna handled sales and marketing, while Riikka focused on creating and refining the chocolate.
In March 2020, COVID-19 hit Finland, and ChocoSomnia had to close its physical store. Jenna quickly built an online store, and with the help of friends, they packed and shipped more than 100 orders during the first week. Despite the challenges, ChocoSomnia thrived, and the whole of Finland discovered the unprecedented chocolate experience.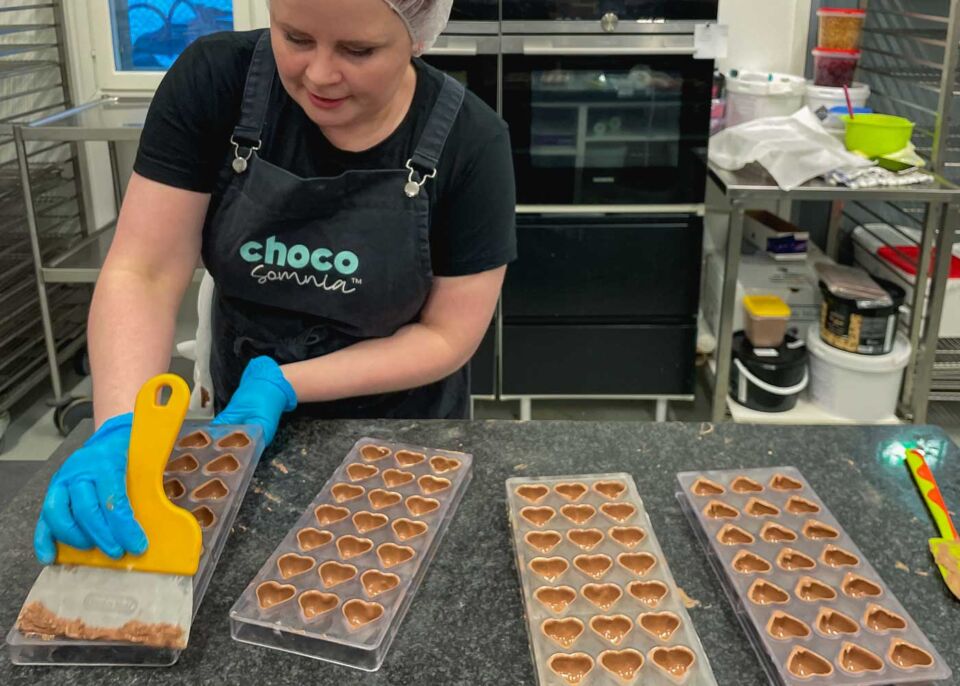 Chocolate-making Workshops at ChocoSomnia in Oulu
Indulging in the deliciousness of chocolate is always an enticing experience, but what if you could take it a step further and actually learn the art of chocolate-making? ChocoSomnia offers a chocolate workshop that will leave you with a full stomach and a newfound appreciation for this decadent treat.
This was our first experience in Oulu once we arrived there in January 2023. Everything was part of the program developed by Discover Finland, and we couldn't be happier to take part in this, primarily because of our zero skills in making chocolate.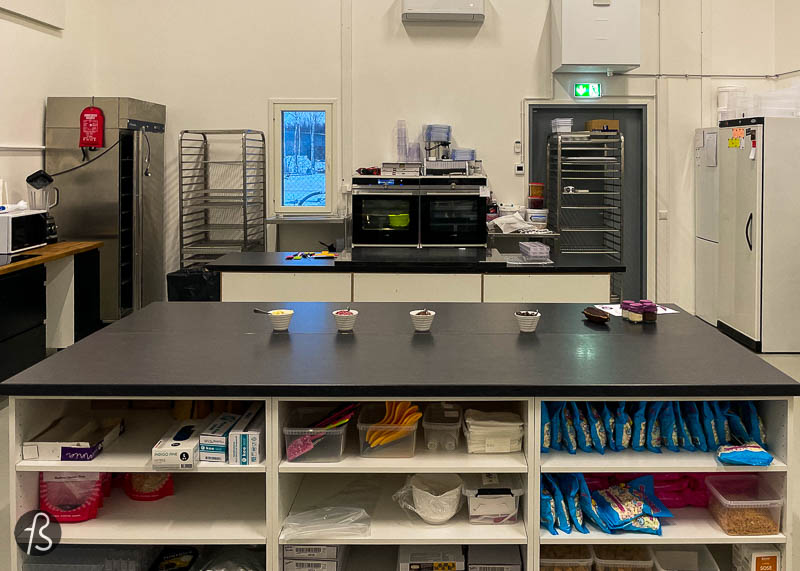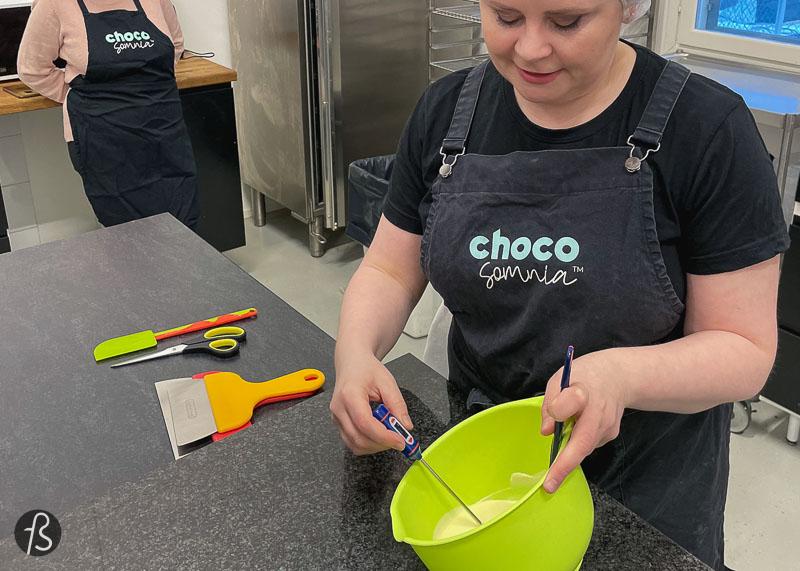 Led by the Master of Chocolate herself, Riikka, the workshop allows participants to create their own handmade chocolates. And they are fantastic even if you are terrible cooks as we are. Not only will you learn how to handle and temper chocolate, but you'll also discover how to make delicious fillings that will leave your taste buds wanting more. And, of course, the workshop would only be complete with some sampling of the chocolate! That was the highlight of the workshop, as expected.
According to ChocoSomnia's website, there are no specific requirements for participants; it's recommended that you bring an open mind, a good mood, and a sense of curiosity. After all, this isn't a serious class – it's all about chocolate!
With your newfound chocolate-making knowledge, you'll leave the workshop with a box of handmade chocolates to enjoy at your leisure. We brought some of them home to Berlin, and our friends loved them!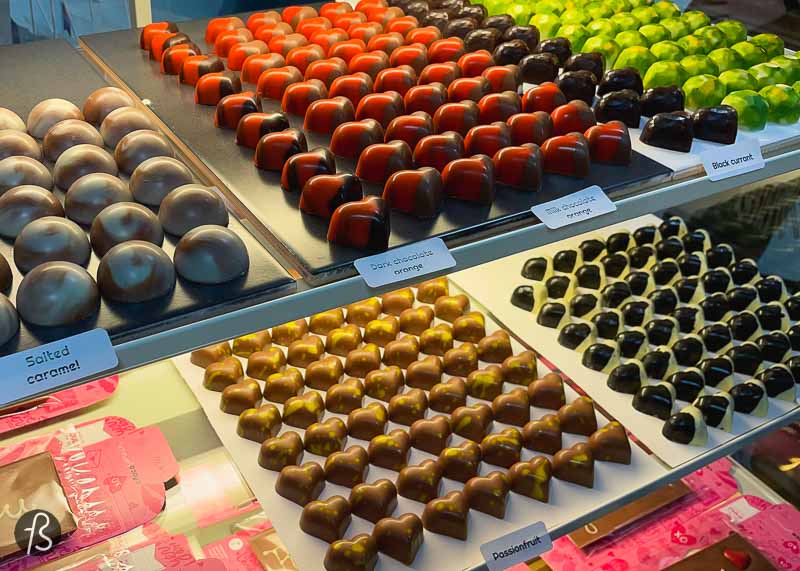 So whether you're a chocoholic or just looking for a unique experience during your travels, the ChocoSomnia chocolate workshop is to be noticed. The workshop is conveniently held at the ChocoSomnia chocolate factory in Oulu, which you can see in the many pictures here.
Check the website below for dates and how to book a chocolate-making workshop with ChocoSomnia in Oulu. Also, they sell their chocolates at their online store, and you know what to do with this information. We loved the chocolate with sea salt if you need a tip on which one to get.
ChocoSomnia: The Best Chocolate in Oulu
Isokatu 28, Oulu – Finland