For some people, myself included there, Vysehrad Cemetery is one of Prague's main attractions. This happens because this is the final resting place of a lot of the most important artists and thinkers from the Czech Republic. Including there Antonín Dvořák, Ladislav Šaloun, Bedřich Smetana and Alphonse Mucha, the main reason why I spent so much time walking around the cemetery.

The Vysehrad Cemetery, with its adjacent Church of Saint Peter and Paul, is the most significant cemetery in Prague. With similar importance to Père-Lachaise in Paris, where Jim Morrison and Frédéric Chopin are buried, and Highgate Cemetery in London, where you can find the final resting place of people like Karl Marx and Douglas Adams. In Vysehrad Cemetery, you will find more than 600 personalities of Czech culture including writers, poets, scientists, composers, designers, politicians, they are all resting there. Some of them are at Slavin, a monumental tomb where some of the most outstanding Czech personalities are laid to rest in a joint place.
A little bit of the history behind Vysehrad Cemetery
The place where you can find Vysehrad Cemetery today was already a cemetery dating all the way back to 1260. The one that you can see in the pictures here was established in the 1870s by Václav Štulc, a writer, poet, and priest who devoted his life to resurrect the glory of Vysehrad.
The marble tombs on its Southern and Eastern sides were designed by Antonín Barvitius, whose most significant work is the Church of St. Wenceslas in Smíchov. The arches were designed by Antonin Wiehl, one of the leaders of the Czech Renaissance, who followed the Italian style with Tuscan pillars made of sandstone.
When you enter the Vysehrad Cemetery, you will see that the main path leads to a huge sculpture that dominates a part of the cemetery. That is called Slavin and it's a mass tomb of the national giants. Built between 1889 and 1893, following Antonin Wiehl designs, Slavin is decorated with a Mourning country on the left side and a Victorious country on the right. On the front, you can see the names of the first fifteen people that were buried there. The first one was the poet Julius Zeyer, who wrote an epic poem called Vyšehrad in 1880 that celebrated the glorious past of the Czech people. His verses also decorate the pedestal of the statues on the side. Above the three panels with names, there is an inscription with the Slavin motto that says "Though dead, they still speak." and shows how important are the people laying there.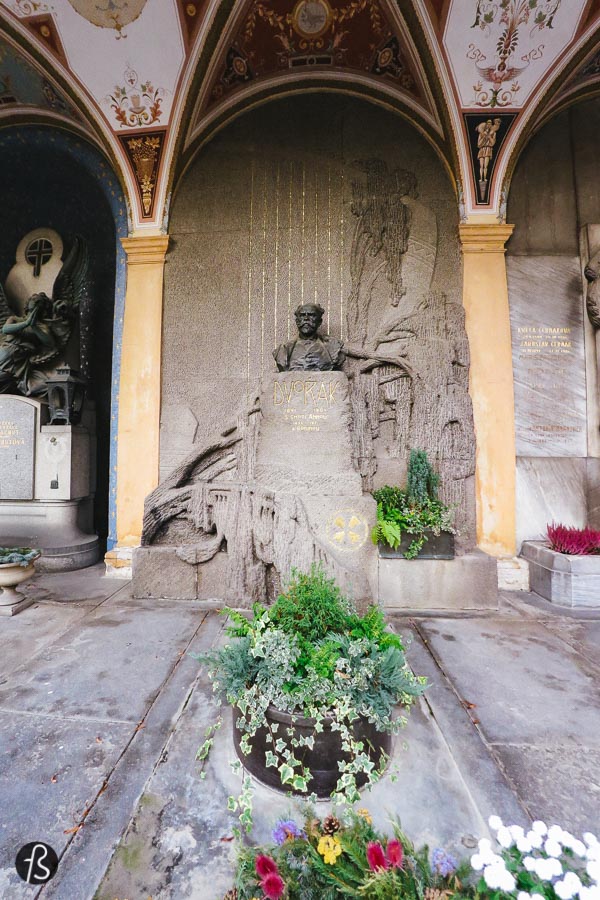 When I realized that I was going to Prague, the only thing that came to my head was Alphonse Mucha. I'm a big fan of his work since I was a teenager and I knew I had to see some of his work during my time in Prague. When I started researching about Vysehrad Castle, I learned about its cemetery and it was like this that I knew I had to find my way there.
Getting to the Vysehrad Cemetery is simple but there are a lot of stairs between the street and the top of the hill where the cemetery can be found. When I saw the twin towers from the Church of Saints Peter and Paul, I knew I was in the right place. This church is one of the symbols from Vysehrad and it was built in the late 19th century in a Neo-Gothic style. The cemetery is located around it.
Finding Antonin Dvořak final resting place
I walked through the cemetery for a few minutes, looking through the tombstones trying to find Alphonse Mucha without any luck. Until I realized that, in front of the church, there is a map with information and location from most of the graves there. It was then that I realized that Antonin Dvořak is also buried there. He used to be one of my grandfather's favorite composers and I grow up listening to him every time that I visited him. So, when I read Dvořak's name, a smile came to my face.
Antonin Dvořak is one of the most famous Czech composers together with Bedřich Smetana, who is also buried at Vysehrad Cemetery. He died in May 1904 of an undiagnosed cause after being sick for more than a month. His ashes were interred beneath a bust by Czech sculptor Ladislav Šaloun, famous for the statue of Jan Hus in Prague's Old Town Square. He is also buried at Vysehrad Cemetery.
After finding Antonin Dvořak final resting place, my challenge was to find where Alphonse Mucha was. The map was pointing in the Slavin direction but his name wasn't on the front panels. I started walking around the statue until his name came popping in front of my eyes. His work was so influential and important to me as a designer that it was an emotional experience to be there. Really. For some, it is just a name but for me, it was like visiting a teacher who I never met before.
For those who have no idea who Alphonse Mucha is, he was a painter and decorative artist whose theater posters featuring Sarah Bernhardt started the Art Nouveau movement in France. His posters, illustrations, and paintings featured beautiful women in flowing hair and robes that are impossible to ignore. While I was in Prague, I visited his life's masterpiece, the Slav Epic, but this will be in another article soon.
In conclusion, a visit to the Vysehrad Cemetery is a must for those interested in the life of the Czech personalities that are buried there. But, even if you have no idea about them, this cemetery is a work of art with a lot of statues designed by important artists. When you go take a walk at Vysehrad, don't forget to visit the cemetery there. You won't regret it.

Vysehrad Cemetery is open from 8 in the morning to 5 in the afternoon, pretty much every day of the year. In the summertime, it stays open until 19. You don't pay anything to visit it and the entrance can be found next to the Church of Saint Peter and Paul.
Štulcova, Praha 2 – Vyšehrad, 128 00
---
Fotostrasse visited Prague with Czech Tourism Deutschland and we loved every second of it.
<!–- -–><!–- -–>